Love your backpack more!
Finally, a solution for backpack sweat and discomfort
The Original Backpack Spacer
The VentaPak backpack accessory creates major airflow and ventilation to reduce heat and sweat. It also improves backpack ergonomics and reduces back strain.
Increase Airflow
True separation between your pack and backpack enables major airflow and effective ventilation
Reduce Back Strain
Reduce Back Strain
Backpack load is distributed more evenly and ergonomically into the strongest part of your back.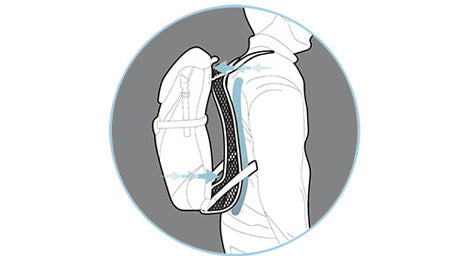 Improve Posture
Straps approach your shoulders more horizontally and gently tug them back.
VentaPak - Backpack Comfort Accessory Lightweight <12 OZ
VentaPak Origin Story
While biking to work on summer days in New York City, Mark realized a major problem that detracted from the otherwise great experience -- his backpack was pressing into his back, trapping heat, and drenching his shirt with sweat.  He realized through research and conversations the "sweaty back" is an all too common issue with backpack users.

Together with a leading industrial designer, he created the VentaPak to make biking, hiking, walking, traveling, and other activities using a backpack more comfortable and enjoyable.
Read Our Story
Blog posts
Prime members in the US earn a $10 credit to use on Prime Day when they spend $10 or more on select small-business products from June 7, 2021, to June 20, 2021.

Read more

Let's make the commute better once we return to the office. Enjoy the cool airflow and comfort of VentaPak as we welcome the new active commute!

Read more

VentaPak will plant one tree for every VentaPak through our partnership with Onetreeplanted.org,  a leading non-profit that plants millions of tree each year

Read more